How My Maladaptive Daydreaming Began...
Hi! My name is Alex and this is my story…
Throughout my life I have struggled with maladaptive daydreaming.
…From my teenage years until well into my twenties I would routinely construct new worlds utterly divorced from my own reality.
…I would wake up maladaptive daydreaming and go to bed maladaptive daydreaming.
…I would go over the same maladaptive daydreams over and over in my head; refining their details into a perfect Hollywood-style script.
Sound familiar?
I knew my maladaptive daydreaming was a form of escapism. I knew I was doing it to avoid facing the realities of my own life.
…I also knew that the more I engaged in maladaptive daydreaming, the worse my real life became.
To be blunt: I was deeply embarrassed by my maladaptive daydreams.
…In fact, not only was I deeply embarrassed, I was ashamed.
How could I be spending my own life daydreaming like this? 
How could I be wasting away my potential and my future locked inside my own head?
But I couldn't stop.
I tried. Desperately. But the daydreams appeared like they were never going to leave.
The Daydreams I Initially Thought Were an Escape Turned Out to Be a Prison
After struggling for years with my maladaptive daydreams I decided I needed to act. I needed to stop them. I needed help.
Luckily, I had the financial resources. So I lined up a meeting with a very prestigious, very pricey psychologist in New York City where I lived.
…I was barely able to hide the embarrassment as I told him what was wrong. That I had these daydreams that wouldn't leave me. That these daydreams kept sucking me back in and gorging all of my free time. That my real life was falling apart as my maladaptive daydreams expanded.
I was desperate. After telling him everything he merely said the following: "This isn't a real issue. Daydreaming is perfectly normal and adaptive."
I knew it wasn't perfectly normal. Who was he to tell me otherwise?
Thus began a long journey of being told my daydreams were perfectly normal. I saw ten physiatrists, phycologists, and therapists. All said the same thing: that they didn't see the issue since daydreaming is perfectly normal.
After months of this I had spent $10,000 trying to get help and what I got in return was being told that my maladaptive daydreaming was, well, perfectly adaptive.
I Decided I'd Try to Solve my Maladaptive Daydreaming by Myself
I decided to dive into the research myself on maladaptive daydreaming.
…I knew it effected hundreds of thousands of people. I knew they wished to get rid of it, much as I did, but were struggling to be taken seriously by the professional-class.
…I knew that those who suffer from maladaptive daydreaming were in a panicked state: seeing their own lives pass them by as they were trapped in an increasingly abstract world of their own creation.
….I knew this wasn't healthy. I knew my life was like a train speeding down increasingly rickety tracks.
So I developed a seven-step method and a series of "tricks" that I continually refined until they worked. It's been four-years since I have had any kind of maladaptive daydreaming.
That abstract foreign world I created in my mind is still there. I can remember all its details. But it's no longer enticing. I'm free of its lure and my own life, my real life, has recovered and improved.
Maladaptive daydreaming dragged me down and threatened the course of my life. I did overcome it though and you can too.
Introducing: The Maladaptive Daydreaming Course
Over the past few years I've spent hundreds of hours talking to maladaptive daydreamers like myself.
…Through these conversations I came to realize that for nearly everyone the same seven-step method and set of "tricks" I used can work for them.
So I decided I needed to write it all down. I compiled everything I knew about maladaptive daydreaming into one central resource that anyone can utilize to stop their maladaptive daydreams.
…And the results have been better than I could have ever hoped for.
Over 50% of those who go through the course I created report a 90% decrease in their maladaptive daydreaming within just two weeks. The other 50% see somewhere between a 25-50% decrease over that same time period.
There is no voodoo involved here. There's no magic formula.
Instead there is a simple seven-step method and four "tricks" that allow nearly anyone to quickly and easily begin on the path to stopping their maladaptive daydreaming.
Here's exactly what's included in the course…
How to Solve Your Maladaptive Daydreams Today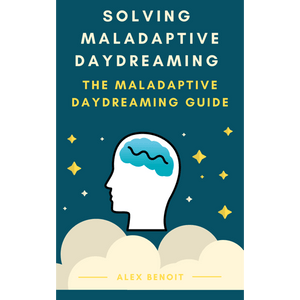 The Maladaptive Daydreaming Guide (36 Pages)
The Guide is meant to be your complete blueprint to overcoming maladaptive daydreaming.
Here are just some of the things included in it:
  ✓ The Seven-Step Method for overcoming maladaptive daydreaming that hundreds of maladaptive daydreamers have utilized successfully (including myself)
  ✓ The four "tricks" that fool your brain into abandoning your maladaptive daydreams (for some people just one of these tricks can cause your maladaptive daydreams to disappear within days)
  ✓ How to deal successfully with relapsing into old or new maladaptive daydreams after you have recovered
  ✓ What the proper mindset to view your maladaptive daydreams is and how to leverage it successfully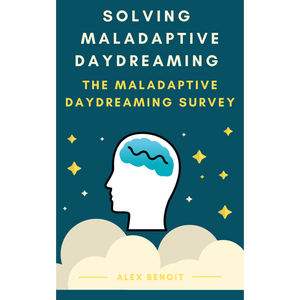 The Maladaptive Daydreaming Survey (19 Pages)
The Maladaptive Daydreaming Survey is extremely powerful. It's a collection of 17 questions that you need to answer in writing (and that you never need to share with anyone else).
The reason why this survey is so effective is because there is a central irony to maladaptive daydreaming. Despite you spending countless hours in your maladaptive daydreams, you've likely never taken the time to actually write down specifically what they are and why you think they manifested themselves.
…And that's for good reason. Actually writing down what your maladaptive daydreams are is an incredibly difficult process (even if you never share them with anyone else!).
The Maladaptive Daydreaming Survey was created to force you to answer difficult questions about your maladaptive daydreams. These questions were created after I talked to hundreds of those with maladaptive daydreaming.
It may sound hard to believe, but for many people just filling out the Maladaptive Daydreaming Survey immediately diminishes their desire to enter into their maladaptive daydreams entirely.
…This is because the process of answering these 17 questions I created takes your maladaptive daydreams out of your head and puts them onto paper.
The survey releases your maladaptive daydreams from your mind and has the odd effect of diminishing their influence over you.
…I should warn you that this survey doesn't take just a few minutes to fill out. For many it's a painful process to go through that can take many hours.
However, taking the survey is viewed by nearly everyone who has gone through the course as an incredibly important step to overcoming their maladaptive daydreams (for some it's the only step that is necessary).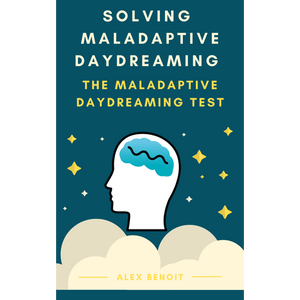 The Maladaptive Daydreaming Test (5 Pages)
The Maladaptive Daydreaming Test has been taken by hundreds of people and is freely available on this website as well.
It's a short series of questions that will only take a few minutes for you to fill out. I've included the results of hundreds of others who have taken the test in order to show where you fall on the spectrum.
Amazing.... one of the tricks Alex discusses really resonated with me and within a week I was daydreaming less than 20 minutes a day.

Samantha Bremmer
So worth it. I'm so glad to know I'm not alone and we can make progress against maladaptive daydreaming.

Lauren Holt
The survey asked tough questions that really made me take a step back. I have heavily cut down my maladaptive daydreaming as a result...

Ryan McNeil
After Three Years of Working with Maladaptive Daydreamers, I Know What Works
Look, I'm sure you've tried to quit your maladaptive daydreaming before ever coming to this page.
It can be incredibly overwhelming. It took me years of struggling to come up with the seven-step method and the series of tricks described in this course.
I can't promise to change everything. I can't guarantee your maladaptive daydreams will evaporate overnight.
…But I can promise that I've dealt with maladaptive daydreaming myself, dealt with hundreds of others just like you or I, and that the seven-step method and tricks I've developed here can make a serious difference in your life. 
Because I've spent hundreds of hours on this course – and it takes quite a bit of time to maintain – I can't give it away for free.
…However, I've created two different options for you and priced them as low as possible. I still have a day job in New York (where the cost of living isn't cheap!), but helping maladaptive daydreamers' is incredibly rewarding work for me and I want as many people as possible to have access to this.
Here are the two options you can choose from:
Option #1: The Maladaptive Daydreaming Course
The first option gets you the entire maladaptive daydreaming course, which is 60 pages in total. It includes everything described above: The Guide, The Survey, and The Test.
The Maladaptive Daydreaming Course provides my exact strategy – and strategy that hundreds of others have followed – to overcoming their maladaptive daydreams.
Everything that I know that is actionable and can be implemented right away is in there. I don't leave anything out.
You can pick up the course by clicking the link below and you will get immediate digital access to it: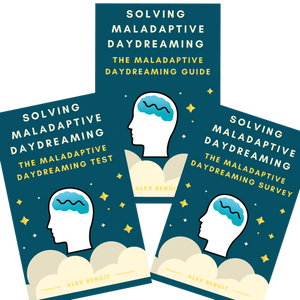 Option #2: The Maladaptive Daydreaming Course + E-mail Access
The second option gets you everything in the first option, but also includes e-mail access to me.
Unfortunately, I have a day job and therefore only have a limited amount of time to personally help people. So this option does cost a little bit more.
This option is meant for people who need a helping hand, some advice, and some support from someone who has overcome their maladaptive daydreaming and talked to hundreds of other maladaptive daydreamers.
You'll get complete e-mail access to me. You can ask anything you want about anything you want for thirty days (which will hopefully be enough time for your maladaptive daydreaming to nearly disappear).
This option is really for those who are serious about ending their maladaptive daydreaming as soon as possible and who feel like they need a little personal support in their journey.
About 60% of those who come to this page opt for this second option, but there's no need to unless you feel that you need the extra support.
Warning: If the option above sales "sold out" that's because too many people have signed up. I pride myself on always answering e-mails as quick as possible, so I turn off this option whenever too many people sign up.
If this option sounds right for you, you can pick it up by clicking the link below. You'll then get immediate digital access to the course and you can send me an e-mail whenever you feel ready to talk.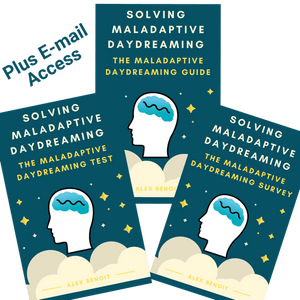 Taking the First Step to Ending Maladaptive Daydreaming is the Hardest Part
Like any kind of quasi-addiction, maladaptive daydreaming sneaks up on you and when you try to stop it can seem to never want to leave.
…I believe I've developed the best way – developed from my own experience and from years of helping others – to overcome maladaptive daydreaming.
However, I want to be clear that there is a 100% no-questions-asked money-back-guarantee included in both options. If I can't help make a difference in your life, then I'm deeply sorry and I simply do not want to keep your money.
If you've read this far, you no doubt have maladaptive dreams of your own.
Whether or not we work together to stop yours, please know that what you are going through has been gone through by many, many people before you.
…I'm always shocked at the number of creative, intelligent, and successful people who have maladaptive daydreams. I'm convinced that maladaptive daydreaming is a mark of a more creative personality than normal.
Getting to know those with maladaptive daydreaming and helping them overcome it has been an incredibly rewarding experience. It has become a big part of my life and I hope I can help you in the coming weeks.
Yours truly,
Alexander
P.S – Remember there's a 100% no-questions-asked money-back-guarantee. If my course doesn't help you then I simply do not want to keep your money.
P.P.S – If you order either option, you will automatically be taken to the member's area where you will be find all the materials I have prepared for you, along with how to get in touch with me. I hope to hear from you soon.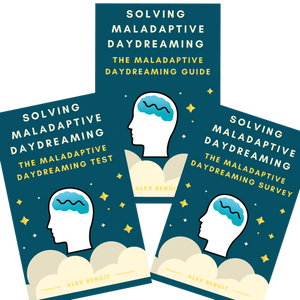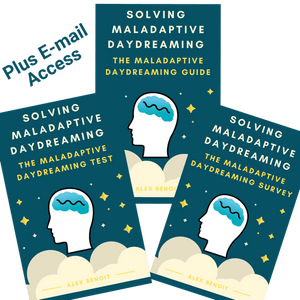 FAQs
When Will I Receive The Course?
After purchasing, the course is delivered to you instantly in digital format. You can download the full course immediately after ordering on the order confirmation page.
Who Is This Course For?
This course is for anyone who has struggled with maladaptive daydreaming. Whether you've struggled with it for a few months, a few years, or even longer.
Is There a Refund Policy?
Absolutely. If for any reason my course can not help you, just let me know and I will give you a full no-questions-asked refund.